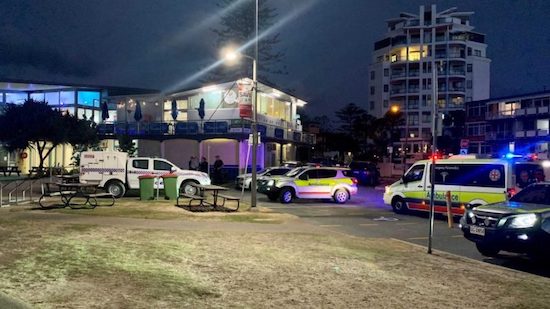 As reported by Coastal Watch….A local surfer in his 50s was attacked and killed yesterday afternoon by what is believed to have been a three-metre great white shark inside Rainbow Bay, Coolangatta.
The victim was surfing a small onshore swell between Little Marley and Greenmount when he was hit at approximately 5pm. There was a crowd of surfers further out at Snapper Rocks, but the victim was the only surfer in the immediate vicinity when the shark attacked.
He was pulled from the water unconscious by fellow surfers and was taken by beach buggy to Greenmount Surf Club where paramedics worked unsuccessfully to save his life. The victim was believed to have suffered severe injuries to his legs.
Snapper Rocks is a netted beach, part of the Queensland Government Department of Agriculture and Fisheries' Shark Control Program, although it's believed the nets weren't in place at the time of the attack. Drumlines however were. Shark nets are in place on 85 Queensland beaches and this is the first recorded fatality on a netted Queensland beach.
The incident is the fourth fatal great white attack on the Australian east coast since June, the attacks occurring between Wooli in the south and Fraser Island in the north. Three of them have been on surfers.
A man has died in the first fatal shark attack on the GC in more than 60 years. 7NEWS spoke with one of the men who tried to bring him into shore. "I ran down to the beach, dropped by board, sort of trudged through the line-up to get to him." https://t.co/Wb51GZuMVi #7NEWS pic.twitter.com/tEtlrh9iLQ

— 7NEWS Central Queensland (@7NewsCQ) September 8, 2020
https://www.shockmansion.comhttps://www.shockmansion.com